As regular followers of my blog will know, whenever I start a new project, I always check my existing collection of figures to see if I have anything suitable, prior to making any additional purchases. Not only does this prevent me from accidentally buying duplicates of figures I already have, it also prevents my wife from shouting at me for making "unnecessary" purchases.
As we've seen so far, I have a Ronin Buntai that I'm painting up for my friend, which was sourced from the Heroscape base and expansion sets and an Oni that I converted from a Marvel Heroscape Hulk.
Whilst the rules I have don't cover Japanese Dragons, I still wanted one, so went looking on the Internet to see what I could find. In my opinion, the best Oriental Dragon currently available is this one:
A Dennis Mize sculpt, available from Iron Wind Metals for $15.95 in the US, or Miniature Heroes, here in the UK for £13.60. However, as I didn't have the funds available to make a knee-jerk purchase of this figure, I had a rummage through the games cupboard to see if I had anything that could be re-purposed.
Now, as most people will be aware, several dragons were released as part of the Heroscape game, including one that appeared in the base set. This particular figure is named Mimring and from what I can gather of the fluff surrounding him, is a typical fire-breathing Western dragon, possibly hailing from the Nordic lands. Here he is: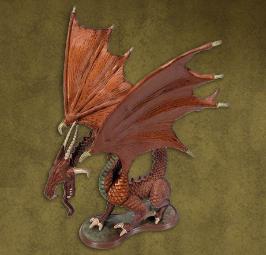 Now, I was never really a fan of Mimring as he came out of the box. For a Western dragon, whilst he was pretty big, he wasn't bulky enough, his wings were too large for his body and his wing-joints just reminded me of Kentucky Fried Chicken…
Japanese Dragons are wingless, have three toes on each foot, barbels like a catfish and, for some reason, hair. This seems to be a recurring feature in Japanese monsters, as even the Kappa, an aquatic turtle-beast, sports a tonsure like a monk. So, as Mimring already has three toes and his wings are removable, we were halfway there, as once his wings have been removed, you do get a long, serpentine dragon.
After removing the frankly ridiculous cheek-horns, my box of bits provided me with some more short lengths of pipe cleaner to provide my dragon with the necessary hair and a length of paper clip to provide the barbel. This was simply pushed through his upper jaw, once I'd made a suitable diameter hole with a push-pin (the advantage of plastic figures).
After looking at various pictures of Japanese dragons, I settled on a suitable paint scheme and this is the result;
Still needs some detailing, but I'm pretty happy that I managed to transform a figure that I had little use for into something that will force any opposing Samurai to reconsider the vows they made to their Daimyo.
Unfortunately, that's all I have to show for this week's "work", due to discovering that the other miniatures I was planning on working on were partially painted during the period when I was convinced I didn't need glasses for detail work, which is turns out that I do. I have now completed the remedial work on these figures, which will allow me to do some "proper" painting during the coming weeks.
Thanks for your visit – comments and feedback are always appreciated.