This post was supposed to be the next in my "Beyond Ghostbusters" series – I'd chosen the movie, found the relevant miniatures and knew the basic gist of what I was going to say…
However, it would appear that my mind has rebelled against what it perceives as a series of relatively serious posts, so instead we're getting some seasonal silliness instead!
As the subject matter is of a ghostly nature, as indicated by the title above, there is a link to my overreaching Ghostbusters project, but it is tenuous and highly suspect, so should you choose to skip this post until out regularly scheduled programming resumes, I won't blame you.
You will be visited by three ghosts…the first being the Ghost of Almost Christmas…
In my initial foray into my "expanded" Ghostbusters universe (in Beyond Ghostbusters – Part1), I introduced you to Gerrish the Ghost-Extinguisher, an Edwardian paranormal investigator and suggested a couple of miniatures to depict him. However, both of these figures broke one of my cardinal rules regarding purchasing single human-scale 28mm miniatures, namely "Thou Shalt Not Spend More Than a Fiver on a Figure (Excluding P&P)". Luckily, whilst "looking at geeky crap online", as my wife terms it, I not only found two additional figures, but both are £3.00 each!
Here's the first;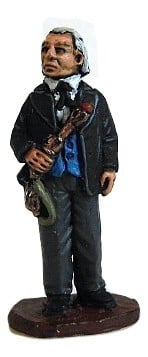 This is Dr How, available from Ironclad Miniatures, who is obviously inspired by William Hartnell's depiction of the first Doctor, although his 'sonic multifunctional tool' appears to have been influenced by the design of the Ninth Doctor's. Personally, I'm seeing an Victorian/Edwardian paranormal investigator, armed with a 'ghost probe'. Although he does also look a bit like Parker from Thunderbirds…
Our next figure is this one, also from Ironclad Miniatures:-
This is Ran Dakroid, whose Spoonerific name and equipment are an obvious nod to Ghostbusters. In my opinion, his 'ghost rifle' is a little too chunky and the bandana makes him look like a Steampunk anarchist, but he is another (cheaper) option. I will definitely be getting a Dr How, though, as I do like the figure.
Incidentally, Ironclad Miniatures also do a Victorian 'Iron Man', a rather nice Holmes and Watson and the usual "extraordinary gentlemen", so worth a visit if you are a fan of Victoriana.
The second is…The Ghost of Childhoods Past…
Eight years prior to the debut of the Ghostbusters on an unsuspecting world, my tender young mind was first exposed to televised ghosts, and the introduction of a company whose sole purpose was exactly the opposite of the Ghostbusters. I am, of course, referring to…
This BBC children's TV series ran from 1976 to 1984, for a total of 9 series and 58 episodes. The basic premise was that a recently deceased Fred Mumford decided to recruit other 'loser' ghosts, in order to start a business providing haunting services to those who needed them. His only two recruits were Hubert Davenport, a Victorian gentleman of delicate sensibilities and Timothy Claypole, a mischievous medieval jester. They rented office space from the long-suffering Harold Meaker, who was initially unaware of their ghostly nature and a series of supernatural hijinks ensued.
In 1978, the actor who played Mr Davenport died and the actor portraying Fred declined to return to the series, meaning that Mr Claypole was in charge. However, as he was essentially an idiot, the show degenerated into farce, and my 9-year-old mind rebelled against the introduction of such characters as Hazel the MacWitch and a teleporting pantomime horse named Dobbin…
However, as I have fond memories of the initial four series, I decided to 'cast' the four characters from this show, so that you can recreate Rentaghost in 28mm,
To be fair, I did give fair warning, so if you've got this far, you only have yourself to blame.
Here is a picture of the cast, so those unfamiliar with this programme will have a frame of reference:
So, given the dearth of 28mm Victorians out there, you would think that Mr Davenport would have been the easiest to find? Not so. The majority of 28mm Victorian gentlemen are either armed, wearing hats or both. Both Wargames Foundry and Westwind Productions had possible figures, but Foundry's figure was too well-fed and Westwind's figure had the wrong hair and his clothing was too early. I returned to the source material and realised that Mr Davenport not only resembled Jon Pertwee's depiction of the Doctor, he was also wearing very similar clothing, so off to Black Tree Design I went…
This is DW301 – 3rd Doctor, available from Black Tree Design's website for £2.75. Other than the cape, I think this is a pretty good match, so works for me.
Next, Mr Claypole, our medieval jester. This one was slightly easier, as there aren't that many 28mm medieval jesters out there. I chose this one:
This is from the imaginatively titled RR10 Jester, Page, Dancing Bear and Bear Master pack, available from Irregular Miniatures for £4.50.  Whilst you are buying a pack of four figures just for the jester, you do also get a dancing bear and who doesn't need a dancing bear?
For our final two figures, we needed miniatures dressed in contemporary clothing from the era in which the show was set, i.e. the late '70's…
As we all know, if you want characters from 70's cult TV shows, you go to Crooked Dice. And if you want 70's football hooligans and match-day personnel, you would be looking through the Aggro Miniatures range carried by Ainsty Castings. And if you want specific iconic characters from 70's movies, including Dirty Harry, Woody Allen and that Zuni fetish doll from Trilogy of Terror, you go to Khurasan Miniatures. However, for a good range of 70's characters, there's only one place to go and that's the 'Geezers! "Shut IT!" range from Killer B Games…
So for Harold Meaker, I've chosen this figure:
This is KB-037 Mr Polyester, available for a very reasonable £2.00. He has the requisite hair and 'tache and, with a suitable paint job, would easily pass as Mr Meaker.
And finally, for Fred Mumford, we have this:
Whilst KB-021 Police Agent with Pistol (also £2.00) is armed, he does have the correct hair style and clothing that is generally associated with Fred Mumford, and you could trim the gun off. Or play a particularly violent and bloody tabletop version of Rentaghost, possibly with the Zuni fetish doll I mentioned above…
And the third will be…the Ghost of Snacks Yet to Come…
I'll finish up with a picture to tie the whole post together and actually mark it as genuine Ghostbusters post. I was in my local pound shop today and came across these:
So I immediately bought some. I shall be enjoying my official Stay Puft Quality Marshmallows over the Christmas period and hope you all have a very good one too!
Comments, feedback and questions regarding my sanity are welcome and appreciated.