Due to various factors, details of which I won't bore you with, my last post was over a week ago, so things have been a little quiet here at the buffet. However, as today is the first anniversary of my blog, I couldn't not post today.
And what a year it has been – we've had superheroes, Frostgrave, Oriental fantasy, dinosaurs in smoking jackets, the unstoppable juggernaut that this the Ghostbusters Project and not one, but two visits to Eternia! During this period, I have enjoyed the support, feedback and comments from my fellow bloggers, which has made this first year a pleasurable experience, so here's to Year 2!
So, what have a planned for the next 11 months (we'll take it up to December, this time)?
More Ghostbusters, obviously, as the monster I have unleashed shows no sign of slowing down or stopping. However, as a sorbet, during March we will see the return of He-Month, or March-sters of the Universe as He-Month 3 is currently being known. Once more both Roger Webb over at Rantings from Under the Wargames Table and myself will be recreating the heroes and villains of our youth in 28mm, with varying degrees of success. For my first foray into Eternia, go here and for He-Month 2, go here.
The reason I'm announcing it so soon is to give others a chance to join in. The 'rules', such as they are, are simple. You pledge at the beginning of March the number of Masters of the Universe characters you intend to create during the month, then post regular updates throughout the month. Both Roger and I include links to each others sites during this period, and should anyone else want to join in, we'll do the same for you.
Now on to other "things"…
The above quotation is taken from the Algernon Blackwood story The Wendigo, written in 1910. This particular tale first saw publication in the collection The Lost Valley and Other Stories, but remains one of his most published tales. It features a possible encounter with the titular creature in the backwoods of Canada, and was the inspiration for the creature known as Ithaqua the Windwalker in the Cthulhu Mythos. It's very atmospheric and very creepy, so well worth a read.
Anyway, as the Cthulhu Mythos has spawned numerous fiction, role-playing games and miniatures over the years, it was fairly certain that it would also spawn board-games, the most recent of which is Cthulhu Wars.
An expansion pack for this game is the Windwalker Expansion, which has a figure representing Ithaqua the Windwalker, cast in one-piece plastic. It's a really nice figure and a unique interpretation of the creature, depicting a swirling ghostly entity with clawed hands. However, the Windwalker Expansion has a recommended retail price of $59.00 and whilst you do get a bunch of other figures, this was a little out of my price range.
However, Fenris Games here in the UK do Cthulhu Wars singles, cast in resin, including Ithaqua. Here he is: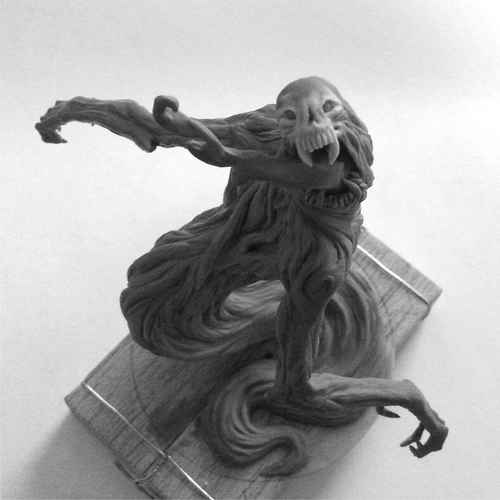 However, whilst it may be 110mm tall, it's still £28.00, which, whilst getting closer to my price range, is still a bit steep.
But I wants it, my precious…
So, weighing my desire against my limited gaming budget, and wanting a big-ass ghost for my Ghostbusters to fight, I decided to make my own…
So, for a large figure, you need an armature and I decided to use these:
That's right, Dr. Plumb's finest pipe cleaners. Who Dr. Plumb is, I have no idea. I bought this pack around ten years ago for a couple of quid, as uncoloured pipe cleaners are a lot cheaper than the coloured ones you get in craft shops.
There are two ways of using them – the first is to cut a suitable length and glue to a figure, then paint. This creates shaggy hair, as the paint colours the fibres, but does not clot them together. I've used this technique to give hair to my Oni and Oriental Dragon conversions, the results of which can be seen here.
The other use is to twist the pipe cleaners together into the shape you want, then paint the whole thing with watered down PVA glue, which glue the fibres together and gives you a lumpy texture, like a Twiglet. I've used this technique to make tree armatures, which is a cheaper alternative to buying them from Woodland Scenics.
So, the first thing to do was create my armature and a number of pipe cleaners were twisted together, to create the 'body' and 'arms' of my ghostly Windwalker. I tried to go for a swirling shape, to give a sense of movement and that it was a manifestation of the North Wind.
At this stage, you can kind of see where I'm going with this. The problem I discovered was that whilst pipe cleaners are not particular heavy, the top part of this 'model' was, so it wasn't going to stand up on its own, which is why it's leaning against my brush pot. I therefore needed a suitable circular base, and appropriated one from a set of Scooby Doo figurines I had bought (which were too large for my purpose). The circular base came in 4 quarters, which I glued together and then added a piece of self-adhesive floor tile to, to give it added heft and strengthen it.
I then discovered a problem – none of the hobby glues I had wanted to stick the Wendigo to the base. In hindsight, I could have used some 'Non-Solvent Adhesive' from the toolbox, the sort of stuff you stick brackets to walls with, but you don't always think clearly when something's going wrong, so I resorted to smearing Milliput all over the top of the base, then blending the 'tail' of my ghost into it, so it wouldn't fall over.
It was then 'painted' with a solution of watered down PVA, the idea being that I'd get the 'knobbly' surface I'd had before. However, the solution was too watered down, which meant that I still had a slightly 'shaggy' look to the figure, which actually looked better.
Out came the Milliput, as although the main armature was fine, it had no face and the individual pipe cleaners were fairly obvious where the 'fingers' of the hand split from the arm. After much moulding, blending and teasing, the whole figure was given an undercoat of Docrafts Light Grey acrylic and looked like this:
Pretty cool, eh? Once dry, I gave the whole thing a Black wash, then dry-brushed it with more Docrafts Light Grey, followed by Docrafts white, then picked out the eyes, nose and mouth with some Black. The base was given a wash of Black, to resemble concrete/asphalt and this is the finished article.
And to give a sense of scale, here's one of my currently unfinished Ghostbusters, facing the "Spirit of the North Wind"…
As you can see, he's a big lad, approximately 110mm tall (so just as tall as the figure which inspired him) and is mounted on a base which is 65mm in diameter. And best of all, it cost me nothing, as I already had all the bits I used to make him.
Hopefully this has been a worthy 'Anniversary' post and shown how useful pipe cleaners can be, with a little ingenuity.  That's all for this post, but next up will be more ghosts and my finished Soul Takers (and their dog), which I'm pretty pleased with.
Comments, feedback and Anniversary cake welcome…