This week, I've been mostly drawing snowmen…
Due to agreeing to help with the 'best decorated Christmas area' competition at work this week, I found my 'spare' time being consumed by drawing cartoon snowmen to populate a frieze (or should that be 'freeze') for the wall. This, of course, meant that whilst I was being arty and creative, it wasn't hobby-focused, so no further progress has been made on the figures I showed you last week.
But that doesn't mean I have nothing to show you, as I've been venturing once more into the wilds of the Internet and have discovered a few choice items, all related to my current focus – Doctor Who.
Now, we all know that Warlord Games have managed to secure the official licence to make Doctor Who figures and that certain manufacturers have received 'Cease & Desist' letters regarding miniatures they produce that were inspired by or resemble characters or creatures from the series. We also know that the Warlord Games Who figures are not 28mm, which means that they won't fit in with majority of the figures I own.
However, all is not lost for the 28mm Who gamer, as I will now show you.
Okay, first up is obviously Black Tree Design, who produce the original Harlequin range of Doctor Who figures, which run from William Hartnell's incarnation right up to Paul McGann's – so 1st through 8th Doctor. Their licence to produce these figures appears to still be in place and they have a wide selection of characters and monsters, including the Peter Cushing movie Doctor and companions. The sculpting varies in accuracy and quality, with some being less convincing than others. However, they do provide at least one additional version of each Doctor from the 1st to the 7th, with the exception of Colin Baker's incarnation, which only gets the one. The other bonus with Black Tree is that they run weekly sales, in which at least one or two of each Doctor's sub-ranges has a discount, so if you're after characters from a specific era of Classic Who, it might be worth waiting until that particular range is on offer.
In the previous post, Back to the Future, I featured the Retro Sci-Fi range from Miniature Figurines, which has a rather nice version of Peter Cushing's movie Doctor and the spin-off character Abslom Daak, so follow the link for fuller details on that.
And waaaay back in December of last year, during the Ghostbusters Project, I flagged up this miniature from Ironclad Miniatures: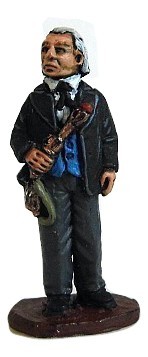 This is Dr How, from their 28m Victorian Sci-fi range, retailing at £3.00. Whilst to me he looks more like Parker from 'Thunderbirds' than the 1st Doctor, it does give you another option.
Of course, everything I've shown you so far is from the 'Classic' era of who, so if you want characters and creatures from Nu-Who, where do you go?
The 2005 9th Doctor two-parter Aliens of London/World War Three introduced the Slitheen to the Whoniverse – large, bug-eyed, clawed hunting aliens, who could disguise themselves as humans by compressing themselves into 'skin-suits'. A creation of then-showrunner Russell T Davies, they were used and re-used in both the first series of Nu-Who and also in Sarah Jane Adventures, although these were yellow ones called Blathereen. Not one of my favourite Nu-Who inventions, but the 28mm Who gamer might want some, so should pay a visit to C P Models, who have five variations of their big-eyed alien at £1.65 each, or £6.00 for four.
They even do a 'youngling' at £1.00.
In series three, a Paul Cornell 7th Doctor novel called Human Nature, was adapted for the 10th Doctor, in which the Doctor was hiding out at an Edwardian boys boarding school, having placed the majority of his memories and Timelord-ness into a pocket watch via a device called a 'chameleon arch', making him, for all intents and purposes, human. The reason for this was that he was being tracked by The Family of Blood, a group of aliens who wanted to steal his Timelord essence for themselves. These aliens possessed various local humans in an effort to locate the Doctor and animated scarecrows to act as minions.
If you want to replicate this 2007 two-parter, which featured a battle between armed Edwardian schoolboys and the aforementioned scarecrows AND have the entire supporting cast, pop along to Gripping Beast, who under the Woodbine Design Company Specials range, have four sets of figures, each containing 4 figures, at £6.00 each.
They even do the scarecrows…
Plus if you need some armed or unarmed Morris Men for the 1971 Jon Pertwee serial The Daemons (or for any other reason, for that matter), they do them too.
Finally, we move on the 11th incarnation of the Doctor and some of his foes. During the 2011 two-parter The Rebel Flesh/The Almost People, we were introduced to the "Gangers" – doppelgänger made from 'programmable matter' controlled by their progenitor and used for hazardous work. Of course, something went wrong and they became independent and attempted to kill and replace their 'originals'. As they became more fanatical, their matter deformed, turning them into monsters.
To populate your tabletop with some Gangers, we need to turn to Attica Games, who within their 'Shiver' range, have the Plastic Population;
£3.50 each or £6.00 for a pack of two, although some of the bigger figures are a little more expensive.
Matt Smith's Doctor also had to contend with the Silence during 2011, who first appeared in the Series 6 opener The Impossible Astronaut. Whilst Warlord Games do a pack of three Silence for £11.99, they are not the most dynamic of poses, not really conveying the creepiness of this race. However, Attica Games also have the ESPchers:
£4.00 each, £10.00 for a pack of three or £17.00 for all six. So a similar price to the Warlord Games ones, but certainly more creepy.
As far as I am aware, all of these figures have so far managed to stay off the BBC's radar, but that may not last, so if you want them I'd order sooner rather than later.
Hopefully my next post will show some progress on the figures I featured last week, but as Christmas is creeping ever closer, I'm not entirely sure when that will be.
So Merry Christmas to All, and to All A Good Night!