Welcome back to the next instalment in my ongoing 'Gothic Victoriana' project!
Before we start on this week's topic, a request was made in the comments of my last post 'Let There Be Light…' to show the inexpensive O Gauge Victorian lamp posts I found after I scratch-built my own, so here they are:
Currently available on eBay from here. Now, I know theses are designed for model train networks and do have an LED built-in, so they can light up, but from an aesthetic point of view, I think the gas mantle at the top is too big. But that's a personal opinion, if you like the look of them, they work out at approximately 75p each including shipping.
---
"The London district of Blackwell, although not as infamous as St. Giles, Limehouse or Whitechapel, does have an unsavoury reputation. The streets are not safe, for not only do the criminal element prey upon its populace, it also seems to attract those predators of a more…unnatural nature.
However, all who reside in Blackwell know that there is one place that is considered inviolate, a sanctuary against the darkness, and that is the Chapel of St. Gilbert.
And woe betide any evil that dares trespass on its grounds, for St. Gilbert's is…protected."
---
As discussed in 'Let Me Take You By the Hand…', whilst I had created three of my four tiles for my small slice of London, I still needed a fourth. I could have created another cobbled road tile, but decided I needed something a little…different.
Regular readers will know that whilst as Salute earlier this year, I picked up some of Renedhra's 'new' iron gates and railings, as I'd been after some for a while and wasn't happy with the MDF ones I'd seen. I also had a Plasticville O Scale 'cathedral', which looks like this: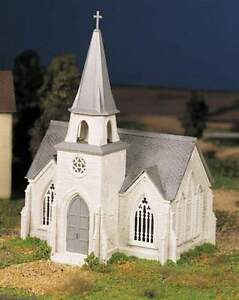 Not exactly what I'd describe as a 'cathedral', but given its size, it would make a good village church or small chapel. I also had a plastic 'tomb' from the HeroQuest game and some assembled Games Workshop plastic trees from their woodland terrain set, which keeps changing its name, depending upon which edition of Warhammer is 'current'. Look at all these disparate elements, it seemed fairly obvious that my final tile would be a churchyard with chapel, railings and tomb, so having done a few preliminary sketches, I began work.
First stage was to flip one of my Poundland self-adhesive 12″ floor tiles and remove the backing paper. Then, using my assembled chapel as a template, I cut out a 'T' shape from the mosaic textured wallpaper I had left over from doing the pavements on my cobbled road tiles, to form the path and 'foundation' of the chapel. This was centred in the tile.
I then cut half-inch strips of another tile and laid these face up around the sides and front of the tile, to form a foundation for the railings. I then glued the gate columns and five of the railings to these strips, to form the front and left hand side perimeters of the churchyard, like so:
Now, a couple of things regarding this; firstly, the gate columns are designed so that the railing are supposed to come out of the corners of the columns and have moulded parts on the column opposite the hinges that you're supposed to attach the railings to. However, I didn't like this set up, so decided to have my railing running from the centre of the side of the column. This has the added advantages of taking up less space and puts the hinges at back of the column, rather than in the middle.
Secondly, the width of the gates, their columns and a railing each side was a little short of 12″. Rather than cut down another railing to fit this gap, I decided to make some brick columns from some rubbery dense packing foam, which I had in my bits box. This stuff is lightweight and pretty dense, but takes surface detail well, so two columns were cut to size and brickwork inscribed with a ballpoint pen.
The next stage was to find a suitable material for the rest of the grounds, as I'd decided that it was going to be grass. I considered foam sheets, felt, towelling and microfibre cloths, but they just weren't doing it for me. On one of my regular wanderings around my local DIY, I came across some textured wallpaper that had a random swirly pattern that I felt would, when painted and dry-brushed, would look suitably 'grass-like', so helped myself to a free sample.
This was then cut to size to go around the already existing paving, with a slight overlap. However, I forgot that this wasn't going to be an 11″ square, as one side was longer, so cut the wallpaper too small. So, I had to cut cut the paper in to three sections and use some putty to cover the joins.
As I wanted the tomb and tree that were going to decorate the front of the churchyard to look as though grass was growing around their bases, I glued two pipe cleaners to the wallpaper in the relevant places, to act as 'sockets' for these terrain elements to plug in to.
Using some more of the dense foam, I created a small brick wall to complete the left-hand perimeter and a very long brick wall and end column to make the right-hand perimeter. And this was the result:
I popped the gates on for the photo, only to discover that I'd glued the columns a teensiest bit too close together, which means the gates overlap by a couple of millimeters. I was initially annoyed, but actually feel that it makes it a bit more realistic, as I've seen several wrought iron gates where the settling of the foundations, etc. has shifted the columns so the gates don't…quite…fit.
As I wasn't sure if the foam would take my cheap grey primer without melting and didn't want to have to repaint my 'grass' from a grey undercoat, out came the paints and the paving and brickwork was given a coat of Docrafts Dark Grey (which isn't very dark at all), whilst the grass was given an initial coat of Docrafts Chocolate Brown.
"What? Brown grass? Are you insane?" I hear you cry. Don't worry though, there is method to my madness, as you will see, but this is what it looked like after the initial undercoats.
The next stage was to build up my 'grass' on my Chocolate Brown basecoat (representing the mud beneath the grass), by the application of three different shades of Games Workshop green, namely Woodland, Goblin and Bogey. These were put into my mixing tray – a metal tin lid – and using a decorator's brush, were stippled on to the brown, one after another. The pipecleaner templates were given a thorough soaking of Woodland Green, but I wasn't able to drybrush these at the same time, as they take bloody ages to dry.
I then went back and tidied up the edges of the paving by giving it another coat of Dark Grey, and decided to paint one set of railings black, just to see what they will end up looking like. And this is how it turned out;
Now, ideally, I would have liked to have finished this piece in its entirety, but I had run out of time and my 'rings' of grass were still wet. I need to paint all of the brickwork properly and cover up some of the parts where I got a bit messy with my stippling, paint all of the railing black, give the paving a darker grey wash and dry-brush my 'rings' with lighter shades of green to make them more grass-like.
However, to give you all an idea of what the completed tile WILL look like, I thought I'd put the tree, tomb and chapel in place. All three items do need to be completed, but it should give an idea of what I have in mind.
And could that be the mysterious protector of the Chapel of St. Gilbert, hiding in the shadows?
That's all for this week. Next time, MORE 'Gothic Victoriana' – might be another build, might be an AAR. Depends on what kind of time I have available during the week.