Over the last week and a bit, the majority of my 'free' time has been eaten up by social occasions, necessary jobs about the home and the usual preparations for the upcoming festive period. Combine this with issues with one of my teeth, which resulted in its removal after a week of pain, and you can see why I may not have been as active as I usually am.
However, I did manage to get a little bit of painting done. Now, I don't usually post half-painted figures, because this shows that my painting style is a little slapdash. But, as I haven't got anything else to show for the last week and a bit, this is what you're getting.
It actually gives me an opportunity to show some of these figures in colour, as previously they've only been shown in black and white, plus as I'm using The Red Lion as a backdrop, I can show off the 'warm glow' I achieved on the lower windows, which I am quite pleased with.
So, without further ado, let me introduce you to the first group, our brave boys in blue – the Blackwell branch of the London Metropolitan Police, also known as the Black Museum;
So, from left to right, we have Sergeant Doyle with his basket of Wysps, Inspector Neame and Speckled Jim, Constable Moore, Sergeant Webb, Constable Rowan and Constable Nash.
Next the nefarious forces of criminality;
Left to right, we have Captain Haggard, Mitchell, Sir Byron Carpenter, Jessop and Collins.
Next, the ladies…
As before, left to right, we have Miss Tabitha Hunt, Miss Verity Smith, Miss Victoria Timms and Jenny Greenteeth, who is the only figure fully painted. I can see that her base needs a bit of touching up, but I was particularly pleased with how I managed to get a lovely mottled effect on her garments, suggesting algae floating on stagnant water.
So, that's a few denizens of Blackwell and a few interlopers, both mundane and mythical, but I haven't finished quite yet…
After a recent discussion with Stevie of The Game Cupboard, I remembered a particular online retailer that could possibly provide him with some rather nice 20mm scaled laser-cut MDF buildings for his upcoming Alterni-War campaign. And this company also does 1/48th scale buildings, which are pretty much the right scale for 28mm. And this company is Petite Properties.
Now, this company specialises in laser-cut MDF doll houses, but the advantage they have over gaming specific structures is; 1 – they are a lot more detailed and, 2 – they are actually cheaper than the equivalent same size structure from a gaming company. Need proof? This is the Raven's Perch, a three-storey Gothic mansion with playable interiors for £37.99!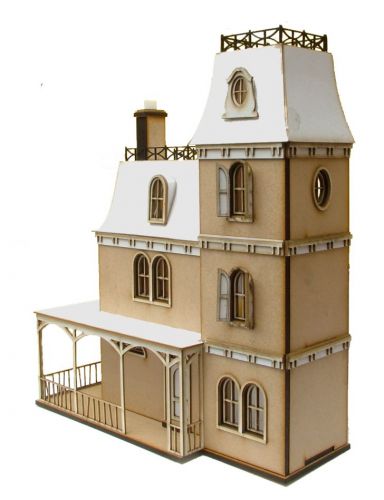 Of course, I was looking for suitable structures with which to populate Blackwell, so could this be the Blackwell townhouse of Sir Alexander Crowe?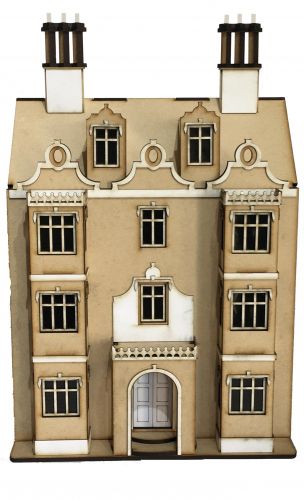 And is this the famous L. Dodsgon & Sons of Milliner's Court?
So the first is Havisham Hall from the Dolls House Collection at £39.99 and the second is the Buttons & Bunting Haberdashery from the Memory Lane Collection at £19.99.
I think they're pretty good value and they give you an additional resource for a variety of periods. They have just released a range called Cobblestone Snicket, which would suit both Tudor London or Diagon Alley, depending on your particular needs.
Join me next time to find out what's occurring in our favourite fictional London borough…