So, we're now about a third of the way through Forgotten Heroes 2019 and those taking part, Mezmaron, the Angry Piper and Wampley have all progressed somewhat faster than myself, so rather than being "the fastest mouse in all Mexico!", I seem to be channelling Slowpoke Rodriguez, including his demeanour…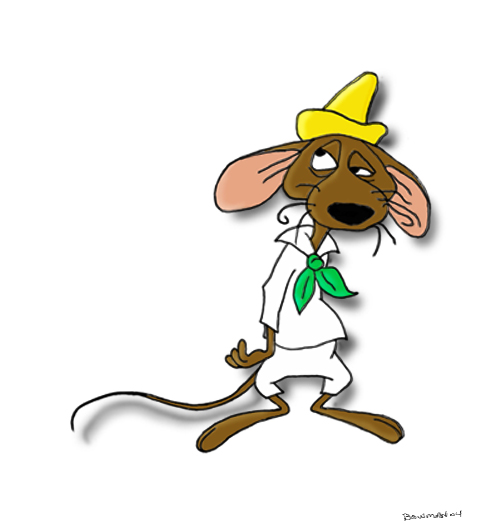 That's one miserable mouse…
Anyway, Mezmaron is currently crafting a patriotic Pole and his bear companion in 15mm, Keith aka the Angry Piper has converted a 'clix into Zangief from Street Fighter, who as he rightly points out, EVERYONE knows is Russian, so I'm letting it slide…this time, whilst Wampley has created G.I. Jingo, taking the militaristic bent of the American patriotic heroes to its extreme. Plus he has also kindly posted in both his native Spanish AND English, for those of us who are too lazy to have learned anything other than "dos cerveza, por favor…"
And in cool Forgotten Heroes news, Scott Pyle, acclaimed writer of both Super System and Super Mission Force, the former of which probably got a lot of people into Supers gaming, has expressed an interest in taking part in this year's event!
You heard me right – the ACTUAL Scott Pyle. How cool is that?
Right, now the frothing and what-not is out the way, what actual progress have I made over the last ten days?
The answer is…some.
First order of the day was to remove my base figure of Stonewall from his 'clix base and glue him to a 2 pence piece, to give the plastic figure a bit of heft. I then built up the surrounding base with Milliput, smoothing this down to create a nice even dome. The reason for this was that I had the bright idea to then coat this in fine sand, to represent the desert landscape from which El Aguila hails…
Now, I have mentioned this in a previous post, but it is worth repeating here – Always use the right glue for the job! I failed to follow my own advice and used Polystyrene Cement, which doesn't like gluing sand. It didn't dry properly, even after 24 hours, so when attempting to paint the figure, bits kept coming off and the paint also puddled on the base, which meant that I couldn't get ALL the base colours on. Note to self – use PVA next time.
Anyway, whilst I had decided that I was going to be creating El Aguila, national hero of Mexico (and not the cheesy Spanish Zorro knock-off that appeared in Power Man & Iron Fist), which had given me the colours red, white and green for his costume, I was undecided on how these would appear. I considered vertical bands of colour, potentially just on his torso, but thought this would just look like he was wearing the flag. I also considered him being mainly green, with red boots and gloves and white highlights…but this looked too much like both Captain America's and the "Captain Mexico" costumes, so discarded this idea too. Then I had a bit of a brainwave – there does already exist a group of individuals who represent Mexico to the World at large and wear the national colours – the national football team. A quick bit of Googling and I came up with this version of their kit;
So, this is the look I will be attempting to replicate – green torso, white tights and red boots. There won't be a cool Aztec face staring out of his chest, but once I've finalised the design, there will be a stylised eagle emblem in brown.
So far, due to the drying issues mentioned above, this is as far as I've got.
Hmmm, and is that the Mictlan Codex in the background? I thought that was being shipped to the Rookhaven Museum of Natural History…
Some progress, no matter how small, is better than no progress. Join me next time, when hopefully "The Eagle" will have gotten his wings.
Jez