Unlike last month, June in the UK has decided we've had far too much nice weather and we're due some colder temperatures and some rain. Which means that whilst the easing of Lockdown means that you can have visitors in your garden, they're probably going to get a bit soggy.
However, as June is also Forgotten Heroes month, the inclement weather means that you can stay inside and work on your fictional creations.
As we've had a few additional people express a desire to take part, I thought I'd list the participants first, before getting on to the meat of this post.
Dave over at Wargamesculptors Blog has cracked on with his A.B.C. Warriors, completing both Zippo and Hammerstein.
Roger at Rantings From Under the Wargames Table has made an impressive start on his conversions of a couple of cheap plastic toys into Battle Cat and Panthro from Masters of the Universe – to accompany the other characters he has created over the years from this franchise. I still need to add a few more to my own collection – I mean, who doesn't need a 28mm version of Buzz Off?
Alan has decided to continue his A-Z of Golden Age Heroes, completing the entry for 'F' with Fiery Mask, an obscure Timely/Marvel hero… and no doubt will produce a few more before the end of the month.
The other participants have yet to put up their first post, but I'm sure these will follow shortly;
Keith at Dead Dick's Tavern & Temporary Lodging, Harry at War Across the Ages and Wampley at Wampley's Castle.
Roy has unfortunately bowed out, due to personal reasons, and we all wish him well and hope he can join us next year. As for Keith Frye, due to the wonders of time travel, did manage to complete his entry three months before the actual start of Forgotten Heroes – so unfortunately, it doesn't actually count. However, I would go and have a look at his conversion of Col. Virginia Lake from U.F.O., as it is really good.
So, my plan is to turn this Artizan Designs figure (from the Thrilling Tales range, which strangely seems to have vanished from their website);
Into my version of the Eighth Doctor.
So, first order of the day was to sort out the revolver, as whilst the Doctor has used firearms on one or two occasions, he is not renowned for regularly carrying a weapon. Using a pair of needle-nosed pliers, I carefully bent the main body of the revolver upwards, until it was in the right position. Then using a flat needle file, the chamber and bulk of the revolver was filed down, until I had a column of metal extending from his hand, which will become the Eighth Doctor's sonic screwdriver.
However, in it's initial state it was too long, looking more like a wand than a sonic screwdriver. Looking at the figure with his "wand", I realised that he now kind of looked like Newton Scamander from the Fantastic Beasts franchise;
So, if you want a "Wizarding World" proxy, this might work out a bit more affordable than an official Knight Models miniature…
As the wand was too long, this was trimmed down and the end rounded to be more sonic-y and less wand-y. However, during this process, I'd failed to notice that my handling of the figure had bent it a bit out of shape. This is due to the fact that the top part of the figure is fairly hefty, with the flapping coat being solid metal, whilst the figure's ankles are quite slender – therefore being the weak point on this model.
After carefully straightening the figure up, the base was filed flat and glued to a standard 25mm plastic base, as all my other incarnations of the Doctor are based in this way. The integral metal base was then blended in to the plastic base with Milliput. As my intention was to try and replicate the knee-high lace-up boots that the Eighth Doctor wore prior to his regeneration AND this was a weak point on this model, some Milliput was added to and smoothed around the bottom half of the legs.
For some reason, this took far longer than normal and was scraped off and reapplied a couple of times, until I was happy with the 'look'. I then left it to dry overnight.
Revisiting the figure the following morning, I realised that his boots were a little thick, so using various shaped needle files, I filed down both the Millput top layer and, where necessary, the underlying metal, until I reached a point that I was happy with.
This is the result so far:
I think the boots may need some further reshaping before the first lick of paint goes on, but I'm reasonably happy so far.
Right, that's the "Forgotten Heroes" part dealt with… what about the "Hidden Monsters?"
Whilst I only managed to undercoat my monsters for Keith's (Angry Piper) Monster May(Hem) challenge, I did enjoy visiting other participants websites to see what they'd done, one such being Matt's PM Painting. He'd painted a Cloak Fiend, a figure I'd not seen before and was keen to find out where it was from, as I thought it was quite cool. I queried this on his blog, but did then use my Web-Fu – for my Web-Fu is Strong – to find it myself, discovering that it was a Reaper figure.
However… this also flagged up a couple of other figures with the "fiend" suffix, which led me to an Etsy shop called ParagonStar.
From what I could gather, this seller utilises a 3D resin printer to create gaming miniatures which can be in a variety of sizes, based on the diameter of the base – from 30mm up to 150mm, with 100mm and 150mm being printed in plastic, rather than resin.
Intrigued by the figure that had brought me to the site, I browsed the range (354 items), noting that figures started from £5.49 each, it was a UK based seller, so shipping was £2.99 and, whilst the pictures in the shop were renders, buyers had posted reviews with pictures of the ACTUAL models painted up.
Then I found this;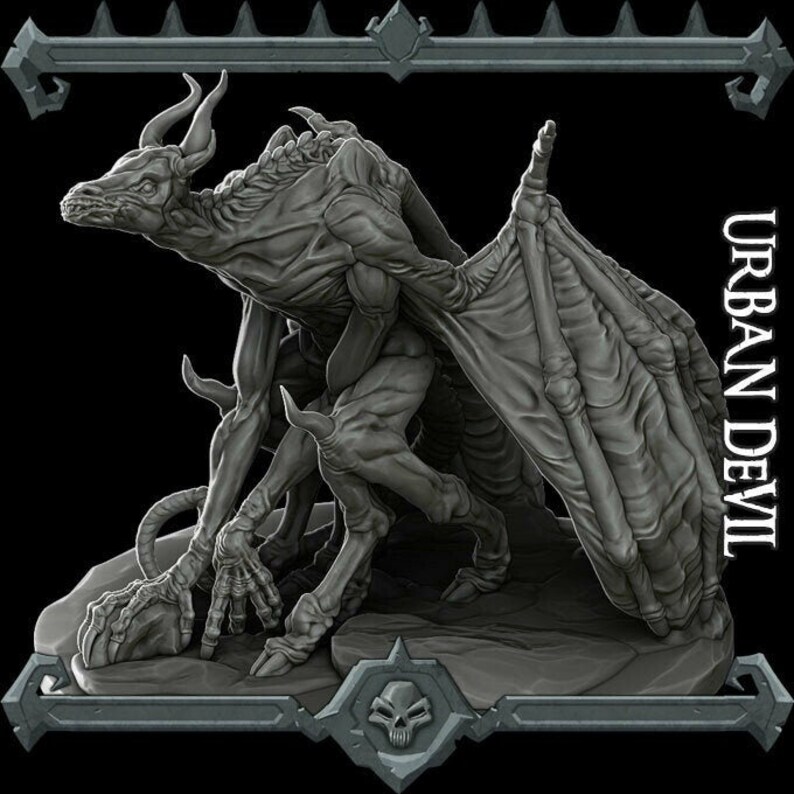 I have been searching for a decent miniature to represent the Jersey Devil for a very long time and I had now found one that I was happy with.
Using a steel rule and the ability to expand the view on my mobile phone, I worked out that in order for the figure to be the 'right' size for 28mm, it would need to be on a 40mm base, which meant that the figure would be about 35-40mm tall. This meant that the figure would be £7.69 + £2.99 shipping, so a total of £10.68. Based on the level of detail and size, this was a bargain compared to other figures.
However, I decided that before ordering THIS figure, I'd test the waters by ordering a different figure, so plumped for Paragon Star's Wendigo, which was very reminiscent of the illustration of it that appeared in issue #138 of Dragon magazine, way back in the dawn of time…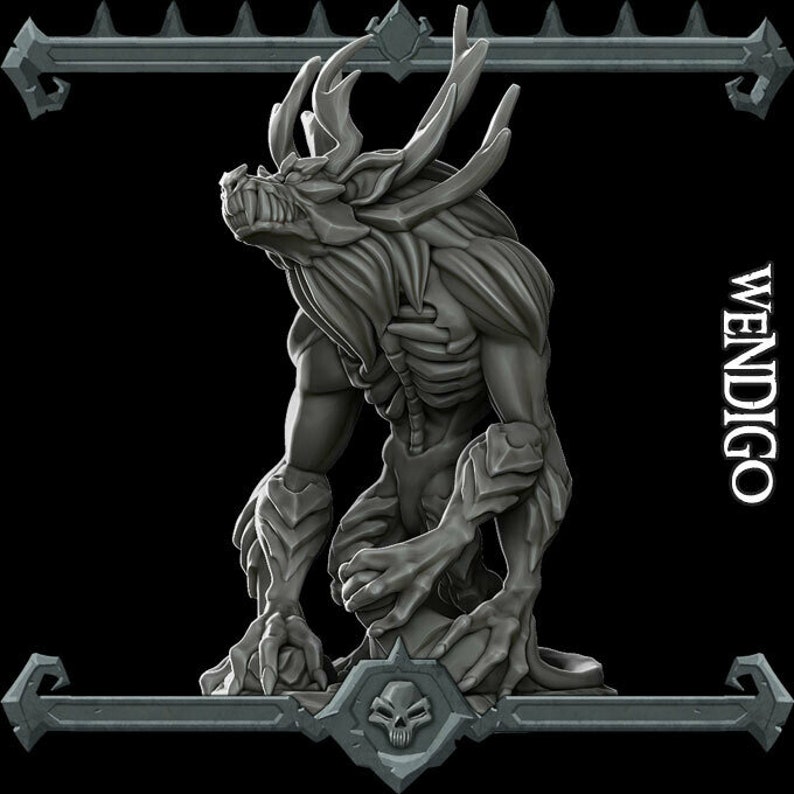 Okay, so the Dragon version hasn't got 4 arms, but Paragon Star's one is pretty damn cool.
So, ordered last Wednesday and due to be delivered beginning of next week. Once it arrives, I will give it a full review and show everyone what it looks like compared to other figures. The seller is quite communicative, so if you have any questions prior to purchasing, send him a message. I asked what the height of the figures would be, based on a base size of 40mm and he came back the following day to advise, confirming my calculations.
As mentioned above, there are a LOT of monsters on there, and they are all non-standard – so while they may have a version of an Owlbear on there, it's probably not what you'd expect – which is pretty cool. As long as the figure quality is decent, I may very well be ordering from there again. I've been needing a proper Jersey Devil for a while, but can I really resist getting a Keg Golem…?